October: Wisconsin Technology and Manufacturing Month
Manufacturing is the backbone of Wisconsin's economy, producing nearly 20% of the state's total gross domestic product (GDP).
As this industry continues to grow, the necessary technological advancements continue to power education, job growth, and economic gains throughout the state.
With this in mind, it is little wonder the state of Wisconsin focuses on both technology and manufacturing.
Manufacturing:
There are over 12,000 manufacturing establishments in Wisconsin, employing nearly 400,000 workers. The average wage for a manufacturing worker in Wisconsin is $59,000, well above the state's average wage of $47,000. As a result, manufacturing is an important source of high-paying, family-supporting jobs in the state.
During Manufacturing Month, Wisconsin manufacturers open their doors to students, job seekers, and the general public to show them what modern manufacturing is all about. Plant tours, career fairs, and other events are happening all over the state.
Technology:
Governor Tony Evers officially proclaimed Wisconsin Tech Month in 2021 to recognize "the state's role in advancing innovative technology solutions" and "working towards the inclusion of people of all backgrounds in the future of the technology industry."
"The goal of WI Tech Month is to host programs, workshops, events, and collaborations across the state of Wisconsin in the month of October that center around our local communities' most pressing items, create equitable opportunities in the world of tech, and spark innovative solutions that have a positive impact on the place we all call home – Wisconsin." – MKE TECH Advocacy Week – Milky Way Tech Hub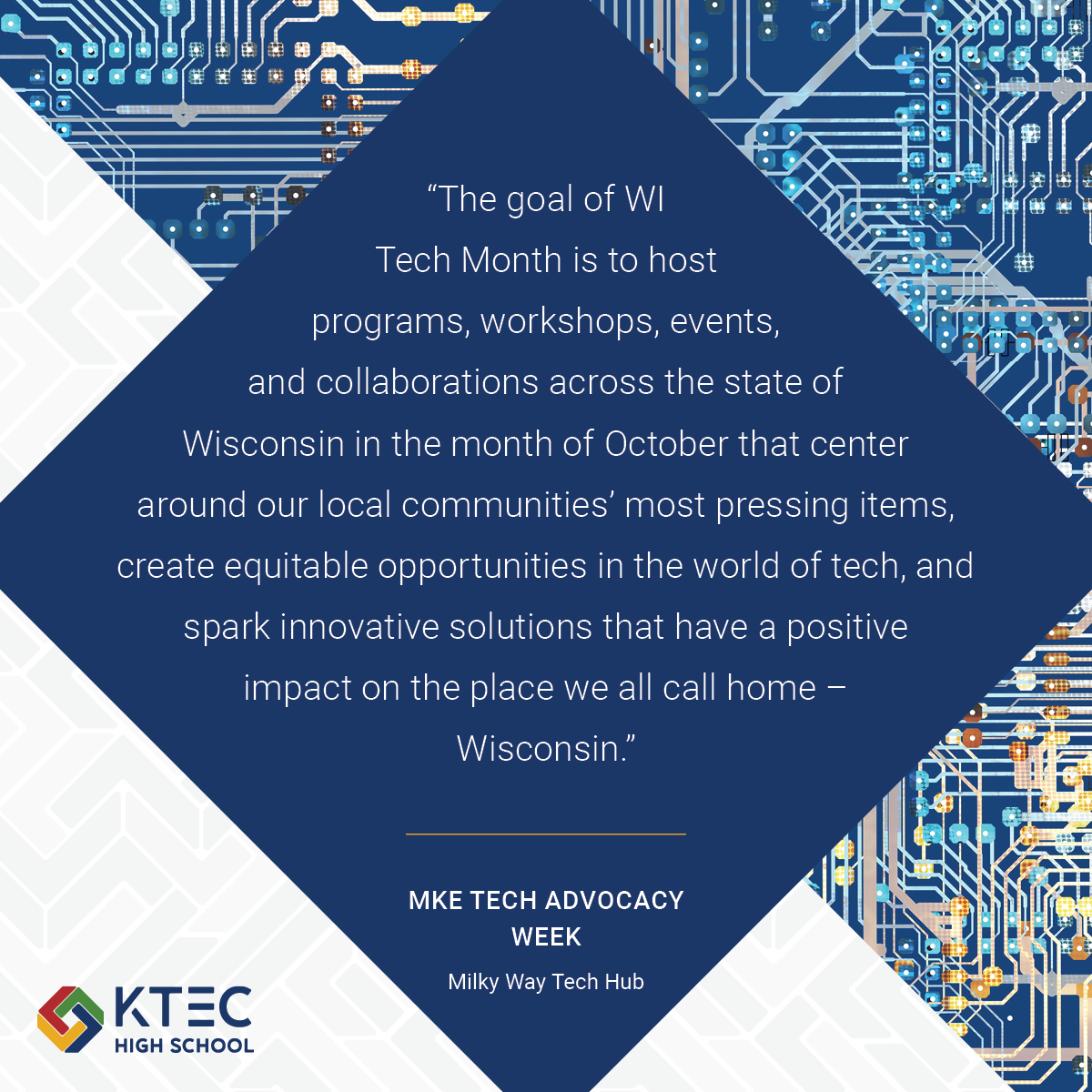 Technology continues to play an increasingly significant role in Wisconsin's manufacturing and other key industries. Today's manufacturers use sophisticated computer-controlled equipment to create products with precision and accuracy. This technology also helps manufacturers save time and money by reducing waste and enhancing productivity.
In the future, the use of technology in production will only increase. Those manufacturers who embrace this transformation will be well-positioned to compete in the market.
"Wisconsin Tech Month is a wonderful opportunity for people to discover new tech, connect with other like-minded individuals, and flaunt some of their own skills," states Like|Minded co-founder Ben Juarez.
KTEC High School:
KTEC's mission was inspired by the demand for highly-skilled, technical, entry-level workers in Kenosha and around the nation.
Students in KTEC High School earn certifications that align with industry-identified competencies. Our program simultaneously prepares students for postsecondary education and the workforce. This is accomplished by allowing students to acquire a strong sense of character, comprehend how to perform collaboratively within society, and be future- and career-oriented.
KTEC works closely with Gateway Technical College, NC3, Festo, Snap-On, and the local industry to create career pathways to support their career development.
Each career pathway is specifically designed to give maximum post-high school impact through a combination of strategic coursework, supporting career-based learning opportunities, and the use of industry technology.
"Manufacturing and technology are vital to our state AND to our students," shares Principal Brianne McPhee. "We are reimagining technical education to meet the needs of our student body and the community."
Learn more about

KTEC

High School at the Kenosha Area Chamber of Commerce Business After 5 event on Oct. 27 at 5 pm.
For more information, visit here.
Find out more about Wisconsin's Manufacturing Month here.
Find out more about Wisconsin's Tech Month Events here.