Innovation
Ever evolving to meet the needs of our industry and educational partners
Breaking the stereotypes of industry and celebrating the dignity of work
Industry Driven
Earn industry credentials
Industry competency-based standards
Simulated workplace
Focus on Professionalism and 21st Century Skills
Technical Foundation
EVERY student will take introductory technical classes
Hands-on learning of industry skills
Exposure to options within Technical Career Paths
Career Readiness Skills
In addition to the technical skills learned at KTEC, the development of career readiness skills is equally important. All students at KTEC High School are expected to learn the following traits and skills: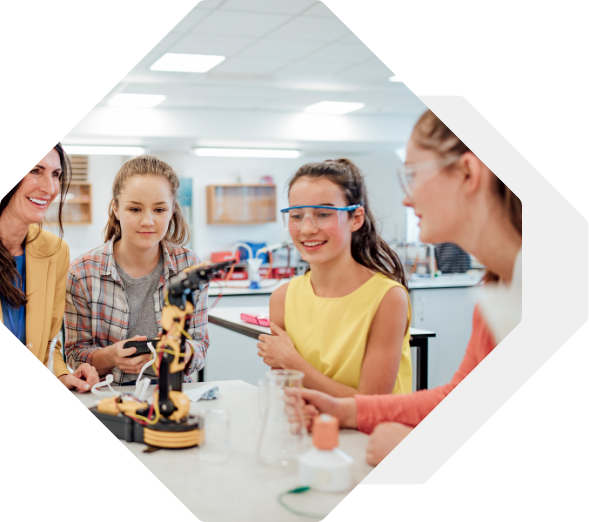 Student Experience
What students at KTEC High School Can Expect
While every high school senior will have access to the required and recommended courses for post-secondary advancement, the proposed program's uniqueness lies in the comprehensive technical education provided to all students. At KTEC, students will complete sixteen industry certifications through technical skills courses. Upon selecting one of our four Technical Career Paths, students will have the opportunity to pursue more specialized certifications. Additionally, students can earn additional certifications by taking courses outside their chosen path. All earned certifications and corresponding competencies will be compiled into a portfolio, which students can utilize throughout their high school years and professional career.
In addition to the broad spectrum of technical education courses and certifications that all students will participate in, eleventh and twelfth graders will also engage in a simulated workplace experience in one of four areas: Transportation, Information Systems, Building Trades, or Advanced Manufacturing/Industrial Maintenance.
The demand for a skilled workforce in Kenosha and Southeast Wisconsin continues to grow. Through our simulated workplace initiative, students will be immersed in a workplace environment that offers rigorous training and support, enabling them to develop the necessary skill set to become work-ready employees. Simulated workplaces transform classrooms into company settings, introducing students to real business processes. This initiative works closely with business and industry experts to ensure that the curriculum and projects meet the needs of tomorrow's workforce.
Within a simulated workplace, classrooms operate with student-led instruction, with students and instructors sharing the focus. They collaborate to create a culture that emphasizes each student's interests, capabilities, and learning styles. By integrating these authentic business practices, every student in the school gains access to the essential skill sets and academics required to be prepared for college and careers.
Simulated workplaces encourage local business and industry experts to join onsite review teams, assisting us in ensuring that students meet the needs and expectations of the workforce. These business partners also support job fairs, where juniors can seek internships or part-time employment, and seniors can find full-time opportunities.
Simulated workplaces have been successfully implemented in career and technical education classrooms in other states such as West Virginia and Alabama. For more information about simulated workplaces, please visit https://wvde.us/simulated-workplace/.
KTEC students will participate in a career fair at the end of their junior and senior years. Unlike typical career fairs where employers have booths to showcase their companies, students will have the opportunity to demonstrate their skills and capabilities to employers. KTEC students will present portfolios containing their certifications, competencies, written works, and project samples. Each student will provide resumes and cover letters that highlight relevant academic and work experience for employers to review. Additionally, students will showcase any applicable work-related projects. The career fair will enable students to network with potential employers and explore internships or part-time work opportunities during their senior year.
As part of their senior year requirements, KTEC students will complete a capstone project in their chosen Technical Career Path. The capstone project will be self-paced and completed independently. Technical Career Mentors will oversee and approve students' progress and completion of their projects. These projects will address current industry trends, provide solutions to industry problems, and/or develop inventions to meet industry needs. The capstone project aims to integrate students' soft skills, academic knowledge, and industry experience.
KTEC students will have the opportunity to participate in a business shadowing program connected to their chosen Technical Career Path. Through this program, students will spend one to three days at a business, aiming to gain a deeper understanding of their field of interest and the skills required for success in that field. The shadowing program provides valuable real-world work experience and insights as students explore career options within their chosen Technical Career Path.
Internship opportunities may also be available through partnerships with businesses, depending on their current needs. Senior KTEC students will have the chance to complete internships during or after the school day, based on the credits they have earned leading up to their final year. Internships offer students the opportunity to gain in-depth work experience prior to entering the workforce.
Frequently Asked Questions