Click here to enter the KTEC High School lottery application for the September 2022 school year. All students that reside in the state of Wisconsin entering 9th grade may enter the lottery. The open spots are filled through a random lottery system. KTEC High School will host meetings to provide information about the school curriculum, culture, and expectations.
Tuition Free Public Charter School Open to All 9th Grade Students in Wisconsin
The idea of KTEC High School came out of the need for high-skilled, technical, entry-level workers in Kenosha and across the country. All four career paths chosen are in high demand; therefore, there are more job opportunities available than skilled workers to fill them.
Students in KTEC High School will earn certifications that align with competencies identified by industry. This model prepares students for postsecondary education as well as on students being workforce ready. This is done by empowering students to develop a strong sense of character, understand how to function collectively within society, and be career and future-focused. Therefore, students will be able to prosper at jobs in high-demand, high-skilled positions.
Ultimately, KTEC High School is about returning our students to an understanding of the dignity of work. If we want our economy to prosper and grow, we need individuals to pursue and excel in careers in the trades and other technical fields.
NEWS
Do you have questions about if KTEC High School [...]
October: Wisconsin Technology and Manufacturing Month [...]
We would like to cordially invite the community to [...]

Students learn in a deeply caring environment that supports them as a student and person

Staff collaborate to meet their own needs as well as the needs of the students 

Families are partners in the education of their children

Students, families, and staff care and serve the community we live in
Industry partners infuse real-world problems into our curriculum

Educational partners provide high-quality, rigorous curriculum materials

By working collaboratively with institutes of higher education we prepare students for their future today

Families, students, and staff collectively ensure students' progress and excellence
Continuous improvement for increased student achievement is integral to KTEC

Staff pilot new curriculum for partners to ensure competencies are up to date

Innovative and continually evolving research-based instructional practices are utilized
As important as the technical skills that students learn at KTEC, so are career readiness skills. All students at KTEC High School are expected to learn the following traits and skills:
Academic and technical skills are integrated across multi-disciplinary projects. Students will apply their skills to accomplish workplace tasks.
Students will effectively express ideas, inform others, share knowledge, and provide customer service.
Students will understand how they play a role in the success of the employer and community through personal, civic, and community actions.
By recognizing and solving problems – from small technical issues to group dynamics, to the design of overall systems – students will persevere to solve real-world problems.
Students will develop the ability to intelligently reason through and make complex decisions.
Students will generate and share innovative and new ideas.
Leadership skills will be developed by students through real-world opportunities to ethically lead and manage.
Students will collaborate with colleagues representing various backgrounds.
Students understand how to use technology and apply it successfully in the workplace.
Students will manage a personal career including understanding and meeting the expectations for professionalism and skills in the workplace.
Students will recognize the benefits of physical, mental, social, and financial well-being.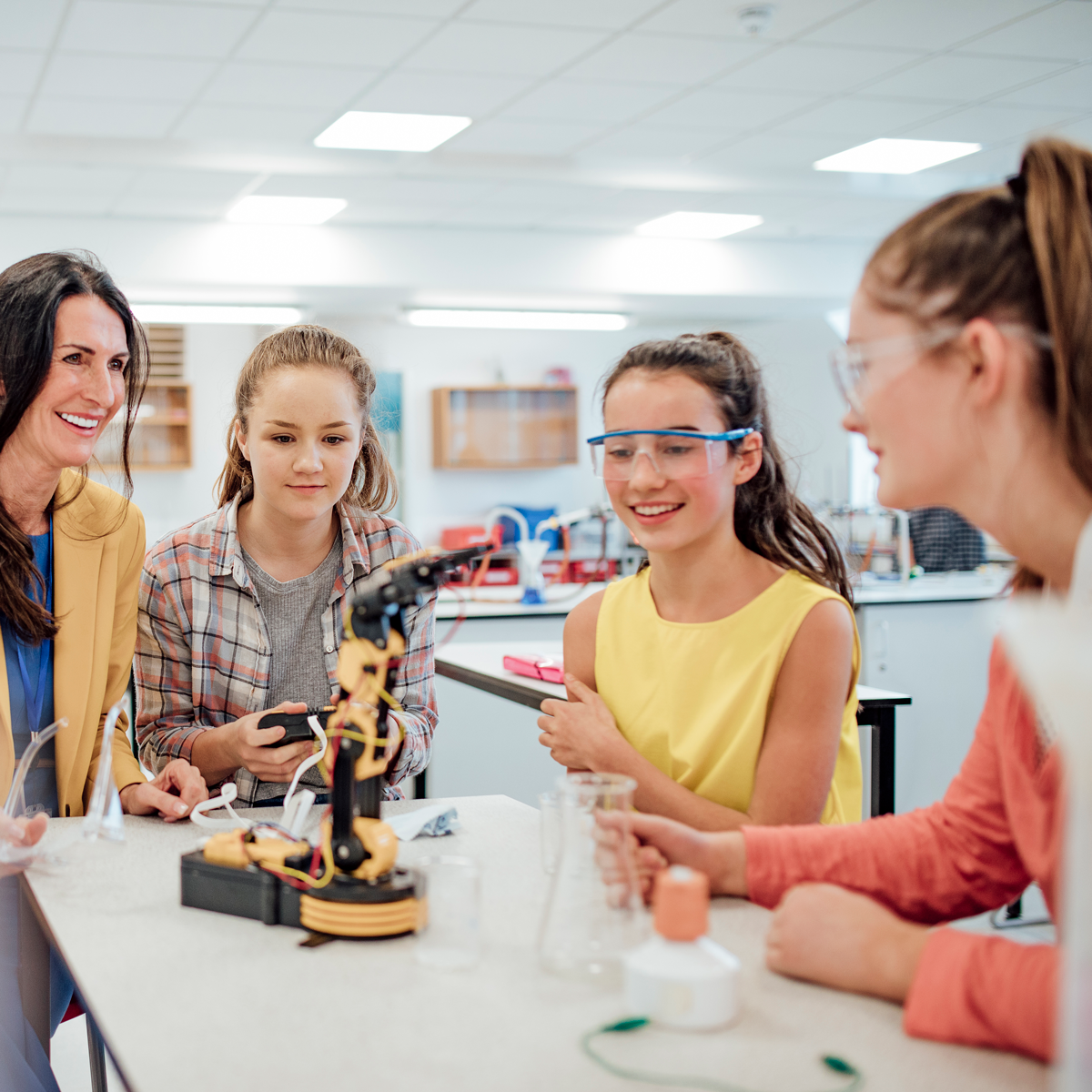 "The KTEC 4K-8 has developed strong partnerships with industry and higher education which allows students to learn in an educational environment that is exciting and engaging while providing real-world applications of skills. KTEC High School's partnerships with Snap-On, Gateway Technical College, Festo, NC3, and Tri-County Contractor Association will take our students learning further by building on a strong foundation for their success as adults through unique and innovative opportunities."
Brianne McPhee,
Incoming KTEC High School Principal

OFFICE OF EDUCATIONAL
OPPORTUNITY
The Office of Educational Opportunity (OEO) exists to incubate educational innovations, improve known best practices, and increase educational equity.
As part of the University of Wisconsin System, we live the Wisconsin Idea by incubating new educational opportunities, sharing what we learn along the way with PK-20 stakeholders, and supporting efforts to close opportunity gaps and eliminate achievement gaps.
"The makers and the fixers create the fabric of the society we enjoy."
Nick Pinchuk,
Chairman and CEO, Snap-on Incorporated
Click here to enter the KTEC High School lottery application for the September 2022 school year. All students that reside in the state of Wisconsin entering 9th grade may enter the lottery. The open spots are filled through a random lottery system. KTEC High School will host meetings to provide information about the school curriculum, culture, and expectations.
What students at KTEC High School Can Expect
While every high school senior will have access to the required and recommended courses for post-secondary advancement, the uniqueness of the proposed program is in the technical education that all students will have. Through the technical skills courses, KTEC students will complete sixteen industry certifications. Students will have the ability to complete more specialized certifications after choosing one of our four Technical Career Paths. Students will also have the ability to earn additional certifications by taking courses outside their chosen path. Earned certifications and corresponding competencies will be collected by each student within a portfolio to be used during their high school years and into their professional career.
In addition to the broad spectrum of technical education courses and certifications that all students will participate in, each eleventh and twelfth grader will have also participated in a simulated workplace in one of four areas (Transportation, Information Systems, Building Trades, or Advanced Manufacturing / Industrial Maintenance).
The demand for a skilled workforce among industries continues to grow in Kenosha and Southeast Wisconsin. Through our simulated workplace initiative, students will be engaged in a workplace environment providing rigorous training and support, while developing the necessary skill set to be a work-ready employee. Simulated workplaces shift classrooms into a company setting that introduces students to business processes. Additionally, this initiative works closely with business and industry experts to ensure that the curriculum and projects meet the needs of tomorrow's workforce.
In a simulated workplace, a classroom operates with student-led instruction; students and instructors share the focus. They will work together to create a culture, which emphasizes each student's interests, capabilities, and learning styles. Integrating these authentic business practices gives every student in the school access to the necessary skill sets and academics needed to be college and career-ready.
Simulated workplaces encourage local business and industry experts to join onsite review teams to assist us in ensuring that students are meeting the needs and expectations of the workforce. These business partners will also assist with job fairs where juniors may be looking for internships or part-time jobs, and seniors who will be looking for full-time employment.
Simulated workplaces have been implemented in career and technical education classrooms in other states such as West Virginia and Alabama. For more information about simulated workplaces see https://wvde.us/simulated-workplace/
KTEC students will participate in a career fair at the end of their junior and senior years. Unlike typical career fairs where employers have booths to showcase their companies, students will have the opportunity to showcase their skills and capabilities to employers. KTEC students will have portfolios containing their certifications, competencies, written works, and project samples. Resumes and cover letters will be available from each student highlighting relevant academic and work experience for employers to take. Students will also have on display any applicable work-related projects. The career fair will give students the opportunity to network with potential employers and seek internships or part-time work during their senior year.
KTEC students will be required to complete a capstone project during their senior year. The capstone project will be in their Technical Career Path; it will be self-paced and completed independently. Technical Career Mentors will be responsible for approving and overseeing students' completion of projects. Projects will be connected to current trends, offer a solution to an industry problem, and/or invention to meet industry needs. The capstone project is designed to allow students to integrate their soft skills, academic knowledge and industry experience.
KTEC students will have an opportunity to shadow businesses connected to their chosen Technical Career Path. The shadowing program will allow students to spend one to three days at a business. The goal is for students to gain a better understanding of their field of interest and the skills not yet acquired to be successful in that field. The shadowing program is a great opportunity for students to gain real-world work experience and valuable insight as they begin to look at career choices within their Technical Career Path.
Internships may be available from partnering businesses based on their current needs. Senior KTEC students will have the opportunity to complete the internships during or after the school day based on their earned credits leading into their last year. Internships will give students in-depth work experience prior to entering the workforce.
FREQUENTLY ASKED
QUESTIONS
We are happy to hear from you!
Please email any questions you may have to [email protected] or call 262.286.0320